Ladronka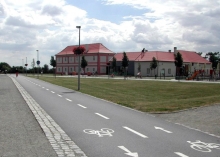 Nice and still not enough appreciated trip point is authentic medieval estate Ladronka. It was built in country baroque style. For long centuries it was used as a farm. The stony construction with strong walls and deep cold cellars was surrounded by fields. Agricultural land was comprising with city development, so the farmhouse was sliding into the centre of Prague.
Before the property relationships were solved, after the change of political regime, for ten years it has been settled by people with nonconformist and alternative life style, it became squat. After long administrative fights has the estate finally a new owner. It is being repaired and slowly gathering the primary glance.
The best way how to reach Ladronka is to take a bus number 174 to the station Vypich from Hradcanska (the underground station on route A). You can find here a restaurant, exhibition hall, also parties are held here.
But the one thing Ladronka is made for these days is sport. Around the estate is a public park with very well maintained route for cycling, and escpecially in-line skating. The route is wide and long, perfect for those who want to spend sporty afternoon here and want to make something good for the figure. Around the route are lights, so you don´t have to worry to skate in evening time. And the others who don´t like skating can simply run near the route on the grass. It is also a very nice place for a picnic on huge grass areas. Come to enjoy some sport activity here and to absorb a little bit of medieval atmosphere.
Be careful in streets of Prague Botanic Gardens of the Charles University