When Charles IV. started to build the New Town in Prague in 1348, he wanted to create a square that would be a dignified equivalent to the Old Town Square – the Charles Square (Karlovo namesti). This place was supposed to be the central place of the New Town. The Charles Square used to be the biggest square in Europe at that time, and it is still the largest square (4.63 ha) in Prague now.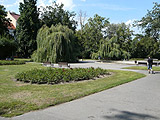 The square got its present name at the 19th century, before that it was called the Cattle Market for large markets selling not only cattle, but also firewood, coal or pickled herrings. In the middle of the square used to stand a wooden tower in which coronation jewels were displayed once a year. In 1393 the tower was replaced by a chapel with a small cemetery. However, the chapel was destroyed in 1784.
For a long time in the past, the square was just a muddy place. That's why, in 1876, the square was turned into a park with two fountains and many trees around it, especially in the southern part. The park contains many statues of famous Czech people, such as Vitezslav Halek, Eliska Krasnohorksa, Karolina Svetla or Jan Evangelista Purkyne.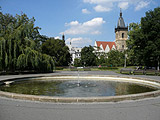 Even though the park is divided into three parts by two frequented streets (Jecna, Zitna), it's a nice place to sit and relax. However, we don't recommend to visit the park at night. The Charles Square is surrounded by many interesting buildings, such as the New Town Hall, the Jesuit College and the Church of St Ignatius of Loyola, or the Faust House.
How to get there:
Go by metro yellow line B to Karlovo namesti (exit Karlovo namesti). Or by trams no. 3, 4, 6, 14, 16, 18, 22, 23 or 24.
For more pictures see Charles Square Photo Gallery