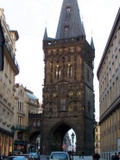 The construction of the 65m-tall Powder Tower begun in 1475 under the reign of King Vladislav II Jagiello and for a few centuries has been known as the New Tower. It used to form one of the 13 entrances to the Old Town and contribute to the beauty of the Royal Court, the king's residence. The New Tower was built in concordance with the Old Town Bridge Tower designed by Peter Parler a century before.
In 1483 the king moved to Prague Castle and the bridge was left unfinished. Between 1875 and 1886 the tower was rebuilt, decorated and redesigned by Josef Mocker. The gate acquired its present name in the 17th century when it was used to store gunpowder. Today, there is a small exhibition about the tower and it is open for visiting.
Opening hours:
April-October from 10.00-18.00 daily.
How to get there:
Metro: Yellow B line: "Namesti Republiky";
Trams No 4, 14, 26 to the stop "Namesti Republiky";