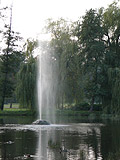 Are you tired a bit of the crowds of people on Charles Bridge or Prague Castle? Visit a lovely old dear-park full of trees which gave the park its name – Stromovka ("place of trees"). You can stroll, skate, cycle, ride on horse – this park is here for you to relax and breath fresh air.
History
The history of this park goes back to the year 1268 when Czech king Premysl Otakar II founded a royal hunting park and on its highest point a hunting lodge which has been changed during the centuries into a folly. In the middle of the 16th century the park was newly planted and a big pond was created.
The best era of Stromovka was during the reign of Rudolf II who enlarged the park and drilled a tunnel under Letna to supply the pond with enough water. He created another pond and brought exotic animals and plants to the park.
Black moments in the park history were caused by wars during Maria Theresa reign. Almost everything was cut or burned. The fears that the park wouldn't exist any more were dispelled by Czech noblemen who renovated it. However, the dears never returned to the park again. Instead of that, in 1804 the park was open to the public. But another catastrophe happened in 2002 when the park was badly damaged by floods. Stromovka was renovated and open to the public again in April 2003.
Present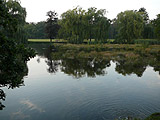 Nowadays the park (95 ha) is a place where to spend a free time in every season of the year. Children can enjoy a raft on the pond or play on the playground Kastanek in the upper part of the park. The folly, the former hunting lodge, is now a seat of the National museum department of newspapers and magazines. If you want to see or learn something new, don't forget to visit nearby Prague Exhibition Ground (Vystaviste) or Planetarium.
How to get there:
The main entrances to Stromovka are from Holesovice, Bubenec and Cisarsky (Trojsky) Island. You can get there by trams 5, 12, 14, 15, 17, stop Vystaviste.
For more pictures see Stromovka park picture gallery