Jan Zizka statue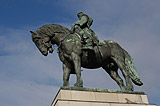 Czech history is visible from many monuments in Prague. One of them is also the equestrian statue of Jan Zizka on Vitkov Hill in Prague-Zizkov. Jan Zizka was an one-eyed leader of the Hussite army who gain the victory over Crusaders sent to destroy the Hussites' movement. The battle took place on the Vitkov Hill in Prague on 14 July 1420. To commemorate Jan Zizka's victory, the Prague quarter is named after him and an equestrian statue by Bohumil Kafka was erected in 1950.
Jan Zizka bronze statue is the largest equestrian statue in the world. It's about 9 meters (30 ft) high, together with the pedestal it measures 22 meters (72 ft). It weights 16,5 tons (just the head of the statue weights 109 kg!).
It's said that the Gestapo searched for the model of Jan Zizka statue to destroy it. The model had to be cut in pieces and hidden in many places, also in a cellar underneath coal. After the WW II the pieces were put together and according to the model the statue was cast. The author of the model, Bohumil Kafka, tried to make the statue as much realistic as possible. He consulted many historians and hippologers. He died before the statue was ready.
National Monument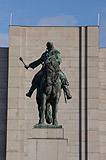 Behind the statue of Jan Zizka on Vitkov Hill you can see a massive building of National Monument that was built in the years 1927 – 32 in honour of Czech legionary and foundation of the former Czechoslovakia. Vitkov Hill in Prague was a good place for the monument. Not only was there the battle of Hussites against Crusaders, but also 15 000 people demonstrated here in 1868 to support Czech national revival. One of the founder stone for the National Theatre was broken off there at the same year.
Inside the National Monument you can find a memorial hall which contains the largest organs in the Czech Republic. Later the monument was used as a mausoleum for the remains of Klement Gottwald and other Communist leaders.
The National Monument will be reconstructed into a modern historical museum which will house the exhibition The Crossroads of Czech Statehood. A new cafe in the monument will offer a beautiful panoramic view.
Address:
U Pamatniku 1900, Praha 3
How to get there:
Take buses no 207 or 133 from Florenc to Tachovskeho namesti and then straight up the park.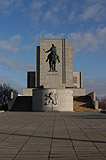 The interior of the memorial is accessible only for groups by prior arrangements or during special actions organises by the National Museum. Booking at 222 781 676, 608 883 464 or oncd@nm.cz.
Admission fee:
Full: 30 CZK, reduced: 20 CZK, family 80 CZK
Taking pictures and videos: 30 CZK
The building is not heated and doesn't have a barrier-free access.
For more pictures of Prague-Zizkov see Zizkov Photo Gallery.