It may sound crazy to you – a house that dances? Impossible! But it is real! Located on the corner of Rasinovo Nabrezi and Resslova street, alongside the Vltava River.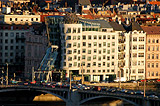 The Dancing House is the nickname given to a building designed by Croatian-born Czech architect Vlado Milunic in a co-operation with Canadian architect Frank Gehry. Built between 1994-1996, Dancing House is a strikingly modern contrast to Prague's historic attractions.
The building is an example of a deconstructivist architecture, with an unusual shape – you can actually see a couple – woman and man dancing together, holding their hands, with a skirt that sways to the music. Words can't describe it. You have got to see it!
The building is also called Ginger & Fred, referring to Ginger Rogers and Fred Astair – the legendary dance duo.
The site was originally occupied by a house in the Neo-renaissance style from the end of the 19th century. That house was, however, destroyed during bombing in 1945, just missing the neighbouring Art Nouveau house of Vaclav Havel – leading figure of the Velvet Revolution of 1989, last president of Czechoslovakia and first president of the Czech Republic.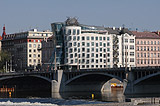 The Dancing House stands out among the Neo-Baroque, Neo-Gothic and Art Nouveau buildings that Prague is famous for. The very non-traditional design was controversial at the time causing a big public debate. After ten years, emotions are over, and the house has its place in modern Prague.
The house is used as an office building. However, you can visit the French restaurant on the roof with a magnificent view of the Vltava River and Prague Castle panorama.
How to get there:
The Dancing House is within walking distance from the underground station Karlovo Namesti (yellow line B). Or you can take a tram number 17.
For more pictures see Dancing House Photo Gallery