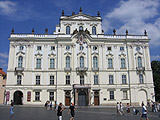 After what crowds of enraged Hussites burned the Bishop Palace in the Lesser Town in 1420, the Habsburg ruler Ferdinand I. decided to build a new imposing palace on Hradcanske square near Prague Castle. Even though the palace was first build in Renaissance style, it was rebuilt in Baroko and later on, in 18th century, in Rococo style.
Archbishop palace has served as a seat of the Prague's archbishop and the archdiocese administration since 1562. It's a large building with four wings and four courtyards. The front facade is beautifully decorated by Ignac Frantisek Platzer. The interior of the palace is mainly in Rococo style, the most valuable items inside the palace are a collection of nine French tapestries and a portrait gallery of Prague's archbishops.
A legend says that the main altar in archbishop chapel inside the palace was decorated with a beautiful painting Crucifixion painted by an uknown Italian artist. The painter made every effort to create the painting perfectly as he got the commission from the archbishop himself. But the painter was not satisfied with the face of dying Christ which wasn't, according to him, showing enough death anxiety. He asked a beggar from Charles Bridge to be his model. He tied the beggar to the cross so that the beggar would feel a lot of pain. But his face was still not full of suffering. The painter got angry and hit the beggar's heart with a dagger. Finally the painter found the face twisted in pain. He quickly painted the face before the beggar died. The painting was beautiful, but it cost two lives – the painter got mad after his terrible deed and jumped off a mountain.
Address:
Hradcanske namesti, Prague 1
How to get there:
There are at leat three ways how to get to the Archbishop Palace:
1. From Malostranska metro station by tram no. 22 or 23 to stop Prazsky hrad. Then continue over Powder Bridge through Prague Castle complex to I. courtyard and Hradcanske square.
2. From tram station Pohorelec (trams no. 22, 23) continue along Loretanska street to Hradcanske square.
3. From tram stop Malostranske namesti continue up the Nerudova street and Prague Castle steps.