Boatels (Czech Botel) or, so called floating hotels, can be a good alternative of accommodation in Prague. Usually very fancy, yet not as spacious as a conventional hotel, a boatel can be the perfect choice for those searching for something out of the usual and a perfect romantic atmosphere. Even though not very numerous, the boatels on Vltava bank, are listed between Prague four – two stars hotels.
All boatels in Prague are well equipped and offer parking facilities.
Boatel Amiral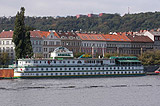 The most luxurious boatel in Prague. It is situated right in the centre of the city, anchored to the right bank of the Vltava. At the front desk you can arrange city tours or boat trips, you can book tickets to events taking place in Prague on the time of your stay.
Address/Map:
Hořejší nábřeží
CZ 150 00 Prague 5
Phone.: +420 257 321 302
Fax: +420 257 319 516
E-Mail: info@admiral-botel.cz
Web:www.admiral-botel.cz
Botel Vodník
The nice boatel Vodnik offers not only a romantic stay on the Vltava bank but also a wonderful view of the fortress Vysehrad, the first residence of the Czech kings. The Hill, on which the "Vysehrad Castle" was built, definitely dominates the place and along with the Imperial Meadow makes a perfect décor for an unforgettable stay in the city of Prague.
Strakonická Str., Prague 5, CZ – 15000
Phone: +420 257 315 667
Fax: +420 257 315 666
Email: info@botel.cz
Web:www.botel.cz
Botel Racek Praha
A cosy well equipped boatel, with an excellent restaurant and terrace. You can find it 10 minutes from the city centre by tram, very close to one of Prague biggest swimming stadiums in Podoli.
Address/Map:
Na Dvorecké louce
140 00 Prague 4 – Podolí
Phone: +420 241 431 628
Phone: +420 241 430 525
Fax: +420 241 430 526
E-mail: info@botelracek.cz.
Web:www.botelracek.cz
How to get there: Take trams No. 3 or No. 17 to stop Kublov.