Controversial Eye above Prague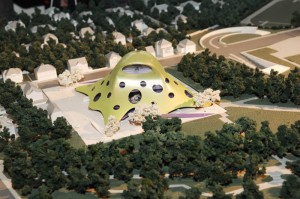 Prague is famous for all the architectural styles you can find here – Gothic, Renaissance, Baroque and other style sometimes in one street. The city is not so known for its modern architecture though. The Dancing House is probably the only one. This should change, however, with the new National Library being built on Letna Hill.
"Eye above the City" is a name of the winning project for the new National Library of the Czech Republic. The new library should be finished in 2011 and is estimated to cost 2 billion CZK. But the price is not the only controversial issue here.
The winning project is miles off from being conservative. This new library is probably going to be the most futuristic building in Europe. It looks like a huge green-purple jellyfish with a big glass eye overlooking the city. It reminds me of the film Flubber from 1997 starring Robin Williams. When I first saw the winning project, I thought of a big green slime. Sorry, but I can't help it.
The new library, also called the "octopus", divided locals into two camps. Some residents say it is going to ruin the historic district of Prague, others say that Prague needs more from contemporary architecture. Whether you are on one side or another, the Eye above Prague is the winning project and its realization is only question of time.
So it looks like the architect, Czech Jan Kaplicky, can be content since his main goal – to attract non readers as well – seems to be accomplished. For Jan Kaplicky, his "octopus" is going to be his first building realized in his home country. He is more famous abroad. His perhaps best known work is the futuristic Selfridges building in the English city of Birmingham.
If you are interested in seeing the new National Library before its realization in 2011 visit the exhibition called The Eye above Prague in Klementinum gallery, not far from Staromestska underground station (green line A) – Krizovnicka 190, Prague 1. You will get to see not only the winning project but also other projects that took part in this international competition. The "octopus" was not the only extraordinary project. It is really worth seeing!
This exhibition runs till May 31. Open is from Tuesday to Sunday from 10am to 7 pm. And the best information at the end – the exhibition is for free!!
1 Comments for Controversial Eye above Prague
Fascinating!
I am spending the summer in Prague working at the National Medical Library, I will certainly be along to see (and blog about) this. I wish I could be involved in some way (ale já moc nemluvím česky).

Despina