Don't miss exotic butterflies in Prague!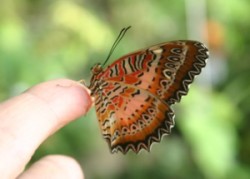 Of course I am talking about the exhibition of exotic butterflies in Botanical Garden in Prague, to be more precise in Fata Morgana Greenhouse. And it is really worth seeing because you are walking among those flying beauties, and they may even sit on you!! It is fantastic! Have your camera ready!
Fata Morgana is not a typical greenhouse – it has not only the hot and humid section, but also a dry semi-desert section and a mountain section. For only 90 CZK (children and students for 45 CZK) you will take a tour around the world – you will stop by in dry Australian bush, in Madagascar, Polynesia, Africa and other countries.
You get to see not only the marvelous butterflies, but also tropical and subtropical plants, meat-eating plants or romantic waterfall. Butterflies are not the only animals you will come across – tropical fish and frogs from South America are also very nice.
Those butterflies that are now awaiting you in Fata Morgana feel at home in Africa, Philippines, Thailand, South and North America.
You will probably not have better chance to see exotic butterflies in Prague any time soon because Prague is located in temperate zone, so meeting an exotic butterfly is a real specialty to locals. So hurry up! Exotic butterflies are here for you only till April 29!!
To get there, use subway to the station Nadrazi Holesovice (red line C), then bus number 112 to the station "ZOO Troja", and then just follow the signs for "Fata Morgana" or "Botanicka zahrada". Open is daily from 9am to 6pm.