Snow, finally!!!
So I woke up this morning and gasped! I am still amazed now, you should see my face. There is snow out in the streets of Prague, and a decent amount of it!! Now, on January 24!! I have lost my hopes that it would snow in Prague this winter long time ago.
This winter so far has been unbelievably warm in the whole Czech Republic. Blame it on the global worming or warm winds, this is the second time it snowed in Prague, and that is rather rare! First time it snowed in Prague was early in November, long before St. Martin's Day. As quickly as it appeared it also disappeared, all within one day.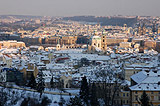 St. Martin, who has his name day on November 11, is believed to cover the whole country with snow. Well, this winter it didn't happen and it hasn't snowed since!! Skiers and service providers in Czech mountains were desperate, since pretty much all December and January the temperatures were extremely high for winter. It was actually so warm that one temperature record fell after another.
That is why everyone is so surprised now with the snow fall. There were, of course, weather forecasts predicting snowfalls from last night on, but nobody probably expected that there would be so much snow in Prague.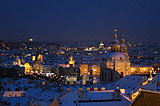 It is a beautiful sight! Out of my window I see one beautifully white scene, and it is still heavily snowing. Children are stunned, tourists amazed. The beauty of Prague under snow when all historical buildings have snow caps on the roofs is something new to them. It looks like a fairy tail.
Not everyone is happy, though. Especially drivers and pedestrians are all mad. In the streets of Prague, snow quickly changes into slush. And that is not nice at all. Prague's otherwise romantic cobblestones turn into the most dangerous thing ever. Streets are slippery. Your pants are all wet the moment some car goes by very fast. And so on.
So maybe the best thing to do right now is to find yourself a neat coffee place with a nice view of Prague, and watch the whole scenery from inside where it is warm and dry, with a hot grog in your hand. Just like that you can fully enjoy the beauty of white Prague.
Exhibition of Currently Most Renowned Czech Photographer Jan Saudek Why Are Czechs Called Czechs And Not Anything Else?