December 24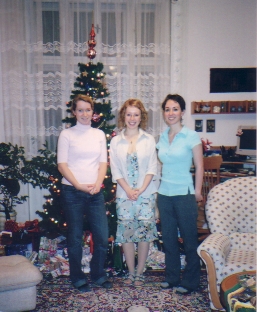 Czechs celebrate Christmas on Christmas Eve, that is on December 24. This day is the most important day not only for children but for parents as well. Yes, Czechs open their presents on this day and not the day after as in many countries.
It all starts in the morning on December 24. Television is switched on in most families because the program is simple and beautiful – all day long only fairy-tales!! Czechs are proud on their fairy-tales. All members of the family watch those fairy-tales while decorating the Christmas tree. Typical breakfast on this day is a special Christmas cake with raisins and almonds called vanocka in Czech.
However, if you decide not to eat all day till the big Christmas dinner you will not suffer. According to the Czech tradition, if you fast, you will see a golden pig! Now you decide whether it is worth trying! If you don't want to see the golden pig, there is usually only little lunch. You can eat Christmas sweets.
Christmas dinner is huge though! It is a great social event too. Everybody dresses up nicely in their "Sunday best" – women in dresses, men in suits, children too. It starts at around 5pm with a fish soup, followed by potato salad and fried carp. Every family has a slightly different potato salad. The recipe is sometimes a family secret. My favorite is with ham, pickled gherkin, egg, mayonnaise mixed with white yogurt (so it is not as caloric) and of course potatoes.
After big dinner at about 7pm, when children turn their attention back to the Christmas tree, it is surrounded with presents. Opening presents in Czech Republic is therefore very different – firstly, Czechs open them in the evening on December 24, secondly, everybody is dressed in the best cloths, perfect hair, not in pyjamas. And this is what I like so much about Czech Christmas – it is more polite, or … sophisticated – don't hate me for this, it is just my opinion.
Czech way of celebrating Christmas has many positive aspects. First of all, you don't have to force your children to go to sleep; secondly, you look good on pictures, and lastly you can sleep on the 25th as long as you wish. Don't you want to put into practice the Czech Christmas now?
Things you should know about Czech Beer Christmas Traditions