Prague got the 62nd position on the list of 100 best places of the planet
There was an interesting public enquiry on the website TripAdvisor (www.tripadvisor.com). People were asked to vote for "The Best Destinations for 2008". Website is very visited and they claim, that the destinations on the list were thus chosen by millions of travelers.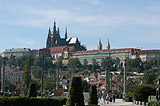 The first place on the list went to Milford Sound at New Zealand, from European places was best Rhodos in Greece, which got 5th position. Prague got 62nd position, if we would consider only European places, then it would be the 21st. Is it good or bad? Prague is a very beautiful town and thus popular among visitors, but unfortunately it has its darker sides. So other European towns, which are usually not that often considered as "one of the greatest places on the world" as Prague often is considered, for example Austrian Salzburg or Italian Sienna got higher positions on the list.
There were some articles in Czech newspapers glossing the enquiry and thinking why awesome Prague did not get better position. According to Tomio Okamura, who is the speaker of the Association of Czech tourist offices, the tourists´ excitement from Prague is often spoiled by bad services. They are not only cheating taxi drivers, but also tricky money changes, where exchange money with "zero provision" but in disadvantageous rate. So there are lots of things, which can be improved and lets hope that improvements will happen and Prague will win better position next year.
The Radar Base- Not Merely a Question of the Present Groupe Guma Guar: Collective identity Art project on the wall of Letenske sady