Czech Cindarella at the Oscars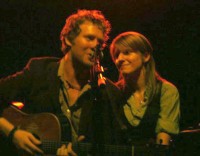 Once is a 2006 Irish musical film written and directed by John Carney. Set in Dublin, it stars musicians Glen Hansard (of popular Irish rock band The Frames) and Marketa Irglova, a fictional Czech emigrant, as struggling musicians.
Marketa Irglova and Glen Hansard's singing won the American National Society of Film 'Critics Choice Award' for the best original film song; Falling Slowly.
The Czech press calls her a modern-style Popelka (Cinderella). The American media love her for her pure, honest and meek personality. Marketa Irglova is a 19-year old country girl from Moravia who was chosen to sing together with her boyfriend Glen at the Oscars 2008 next week.
Read the rest at Czechmatediary.com