Ladronka
The New Year celebrations were of course pompous. The city centre was the major backdrop of the largest festivities. What I personally found more attractive than the city centre was the area beyond Hradcany. A place I recommend to any visitor.
There is a part called Vypich. It's high above the city, though in some distance, reachable by tram. There is a large area of plain grass. I guess the area is protected by the city magistrate plans, otherwise there would already be a lot of buildings in the place. Following a path across Strahov to Petrin, you may enjoy impressive views over a major part of the city.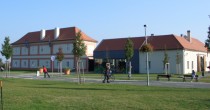 A park you'd be likely to walk through is called Ladronka. It is a park that is well taken care of, there are small sporting areas and the wide road is divided between a pedestrian part and one for cyclists. In the centre of the park there's an old household of the same name. Its recent history is well known for Prague citizens. Originally a lodging facility, it was in the city's hands since 1922 and since the 1950's the object was generally neglected. An unused ruin, it was taken over by squatters in 1993. The situation was more or less tolerated until 2000, when the magistrates decided they actually do want to do something with the object. A private security team with police support literally kicked the squatters out.
The fact is that the squatters turned Ladronka into a centre of alternative culture, with dozens of exhibitions, concerts or performances taking place on the premises. On the other hand, they way they acquired the object was unlawful and it would have been a show of great open- mindedness had the magistrates left them alone. Seeing the object today doesn't make it any simpler. It is no doubt very well reconstruced, the restaurant seems pleasant and there are also other facilities in the object, so it can hardly be said it was turned into something dull. But I personally can't oversee a loss in the case: the centre today is nice, but it's not an alternative to many other facilities of similar kind that you may find elsewhere. A chance to make a showcase of cooperation between the official power and those who are supposed to be uncontrollable was wasted.
Svejnar or Klaus? The February Presidential Vote Zizkov - where it got its name