K-1 FIGHTING NETWORK Heaven or Hell in Sazka Arena
Tournaments Heaven or Hell have more than a six-year tradition and since the first year they are totaly sold out. At the past events a lot of stars performed, they belong to the world top and are monitored by experts and supporters at their each step. It is common knowledge that the second biggest group of world population is interested in the group of sports called "Martial arts" right after the football. At the last tournament, 46 journalists and 7 TV reporters, including 3 online, were acredited. Thanks to broadcasting on national channels, cable televisions and satellite channels Eurosport 1 and 2, the spectacle was watched by more than 65 mld viewers. According to daily Sport, this sport is the most popular and the final tournament K-1 was the most watched programme of the year 2005.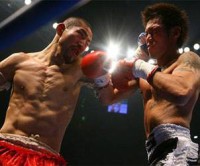 K-1 is a combat sport that combines stand up techniques from Muay Thai, Karate, Taekwondo, Savate, San shou, Kickboxing and traditional Boxing to determine the single best stand-up fighter in the world (the "1"). K-1 origined due to unceasing disputes and comparing single combat sports, and reasoning which style is more effective and better. "K" as a king and "1" as a king of kings. This is the main idea formed by Master Kazuyoshi Ishii in 1993. Ingenious is that the rules are simple and understandable for laymen as well. Fighters with different weights and styles meet at a boxing ring and try to manage that their martial art is the best.
The sport is very popular in Japan, Brazil, and most of Europe, but enjoys only limited popularity in the United States. In most US states K-1 fight rules are banned. Cities as Tokio, Las Vegas, Sapporo or Stockholm take for honour that they can organize these tournaments. In Europe only some cities had this honour – Amsterdam, Stockholm and Paris. On 16th December 2006 in Prague Sazka Arena, the debut of K-1 took place.
Now you can see this unique spectacle for the second time in the Czech Republic. You can feel the adrenalin and the tense atmosphere. When? On 15th December at 18.30 in Prague Sazka Arena. You can see champions as Max Albert Kraus, Gago Drago, Sam Semtex Braan, Arslan Magomedov and the top fighters from the Czech Republic. Tickets are available at www.sazkaticket.cz and the price is from 490 – 3.490 CZK (16,3 – 116,3 €).
By train to the airport? Until six years, Prague promises Some Doubts of Christmas and Christmas Markets in Prague