Dutch band Within Temptation in Prague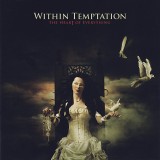 Dutch gothic metal band Within Temptation will visit Prague Club Roxy after the New Year. They released a new single CD on 5th October, although they have released album "The Heart Of Everything" this year.
The band was formed in 1996 by the guitarist Robert Westerholt and the vocalist Sharon den Adel, Within Tempatation released their debut album "Enter" through Dutch indie label DSFA the following April. After the album was released the band played gigs across the continent and firmly cemented their reputation. It may seem unbelievable but while attracting critical and commercial acclaim, they were actually all still in college. So in 1999 the band went on hiatus to finish their studies.
They returned after one year in 2000, it was a very important step for the band. They continued on their strong live performances playing at all the major European festivals. In December they released their second album "Mother Earth" which again garnered critical acclaim. The band's popularity grew and in 2002 spread across the continent. "Mother Earth" gained Platinum and Gold status in Germany and Belgium respectively, while the Mother Earth Tour DVD received Gold status in their homeland and won the band an Edison Award.
In 2004 Within Temptation returned back to the studio to record their third and most successful record to date "The Silent Force" with producer Daniel Gibson. The album supported by international successful radio hit "Stand My Ground" became Number 1 in the Netherlands and Finland, Number 5 in Germany, Top 10 in Belgium, Portugal and Spain, Top 20 in Austria and Switzerland and Top 30 in Greece, France, Turkey, Sweden and Norway. A lot of Gold and Platinum certifications followed.
The single "Angels" was released in June 2005 to support their annual festival run . In August their received a World Music Award for Best Selling Dutch Artist In The World. A release of "The Silent Force" in Japan, Australia, and the UK followed.
Next Awards followed in 2006, they received the Dutch Export Award. In February 2007 they released the single "What Have You Done", featuring guest vocals from "Life Of Agony" front man Keith Caputo. In March they released the album "The Heart Of Everything".
You can see and hear their concert on 17th January 2008 from 19:30 in Prague Club Roxy. Tickets are available in Ticketpro chain outlets and cost 700 CZK (23,3 €).
XXXI. International Jazz Festival Prague The feast of Saint Nicholas