Albrecht von Waldstein and his horoscope – the Exhibition in Waldstein Riding School in Prague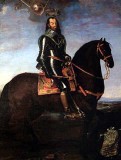 The whole Europe in the first half of 17th century was afraid of the Czech General Albrecht von Waldstein (1583 – 1634). Petr Masek from the National Museum Library in Prague identified a book by unknown writer with comprehensive horoscopes of this warrior and also admirer of future predictions.
"When I studied a tittle and saw that there is a horoscope and that a nickname of a person was "prince of war" it occured me that it was about Albrecht von Waldstein. We compared a date of birth and it agreed not only with a day but with an hour as well, "said Masek at the book's gala performance on Friday.
The discovery of European significance starts a broad exposition of Albrecht von Wallenstein and his period, which begins on 15th November and continues to 7th February in Waldstein Riding School in Prague. The volume of the book is 250 pages and will be a part of the exposition.
In 17th century, astrology was a reliable subject, horoscopes were strategic materials. They were ordered anonymously through an angent and an astrologer didn't known by whom. Horoscopes were often stolen and traded. Albrecht's horoscopes were ordered by his enemies. The author is unknown, but by all apearances it wasn't the court astrologer Kepler, because his horoscopes contained mostly basic data without more detailed explanation.
"I have never seen so extensive horoscope. The author used a range of traditional and modern techniques. He had to be erudite" says the expert Pavel Turnovsky. Historians tried to confront important data of Albrecht's life with reality: "...the prediction mostly agree" added Musalek.
"The most important Albrecht's planet was Uranus, and Uranus is the key to his personality; in my opinion Albrecht von Waldstein longed for independence, " added Turnovsky. The cased book was discovered in Kopidlno Castle's Library and originated approximately in a half of 1627. The horoscope written in German with numerous Latin terms contained everyday detailed rosters of planets positions with commentary and explanation for a term of 11 years – from 1.3 1628 to 22.9. 1638 – continuing after Albrecht's death.
If you would like to see this unique exposition the Riding School is located in Mala Strana, Valdstejnska 3. It is a part of the seat of the Senate of the Parliament of the Czech Republic. Open is everyday (except for Monday) from 10:00 to 18:00.