Christmas on Ice - Prague show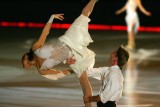 Do you already know what you will be doing during the Christmas time? Read on. I have one suggestion for you. Christmas is connected to snow and ice so if you want to enjoy true Christmas atmosphere, go and see the fantastic show called Christmas on Ice.
Katarina Witt is a German figure skater, born on 3th December, 1965. She has two Olympic gold medals from Sarajevo Olympics (1984) and from Calgary Olympics (1988). She has also four gold medals from World Championships in 1984, 1985, 1987 and 1988. And she won six times consecutive European Championships (1983-1988). She is one of the most successful figure skaters of all time. She also became an actress in the film Carmen on Ice (1986) and recieved an Emmy Award for her role in this film.
Katarina Witt has choosen her guests for this show. One of them is Jozef Sabovcik. He won European Championship once and has a bronze medal from Sarajevo Olympic Games. He is great at rock&roll and at very high jumps (for his incredibly high jumps is nicknamed Jumping Joe). He is famous for his historicaly first quadruple jump. He has lived in USA for 20 years now, but he is originaly from Czechoslovakia.
The next guest is Alexei Urmanov. A winner of Olympic Games, European Championship and he has won a bronze medal in World Championship.
Margarita Drobiazko and Povilas Vanagas are the next invited figure skaters. The pair captured the bronze medal at the 2000 World Figure Skating Championship and they have also won two bronze at 2000 and 2006 European Figure Skating Championship.
Kat Winkler and Rene Lohse have won bronze at World Championship and are quintuple Germany Champions.
During the programme Christmas on Ice, double winner of World Championship will perform with her guest, who belongs to the top of figure skating. They will present their solo programmes, enriched by special figures. Fantastic performances complemented by music and light show can create two hours of fun for the whole family.
If you want to see this spectacle come to T-Mobile Arena on 18th December. Tickets are available in Ticketpro chain outlets and they cost from 295 CZK to 1195 CZK (9,8 – 39,8 €).
Help to Fight Dishonest Taxi Drivers Strings Of Autumn Festival