Moser Glass Exhibition Prague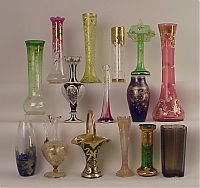 Moser 10/150: Last decade of the 150-year glassmaking – Exhibition in the Museum of Applied Arts in Prague
The exhibition of the 150th anniversary of the Moser foundation is held in Prague at the Museum of Applied Arts from September 13th till November 18th 2007.
Moser presents its production from the last decade including the anniversary collection. The basis of exhibited assortment consists of traditional drinking sets which, thanks to their elegant style and perfect execution, decorate festive tables of elites. The important part of the exhibition is formed by vases, decorated with elaborately executed engravings, often inspired by artworks of world painting.
The traditional offer is counterbalanced by an annually complemented exclusive line of contemporary cut glass design of the Studio Moser. The glass-works has been cooperating with notable designers who know how to utilize the renowned corporate quality of material and handicraft. In the last decade a lot of famous artists participated in creation of new glass-works collections, especially Jiri Suhajek and Jan Mares and also other artists of several generations. Moser is opened also for experiments of the youngest designers. Students and graduates of art schools can design or execute their works in the glass-works.
The open hours of the Museum of Applied Arts are: Tuesday 10 a.m. – 7 p.m., Wednesday – Sunday 10 a.m. – 6 p.m. The address of the Museum is: 17.listopadu 2, Prague 1.
If you go by metro (line A) it is the station Staromestska, and by bus 133 and by tram 17 and 18 as well. For more information look at : http://www.moser-glass.com and www.upm.cz.
Fascination of light – the exhibition in Prague Prague Clementinum – the oldest meteorological measuring station in the Czech Republic