Tiesto's "Elements of life" in Prague T-mobile arena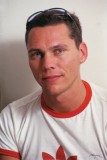 On March 2007, Tiesto released his third author album called "Elements of life" and started his worldwide tour over totally 56 capitals and Prague is going to be one of the stops. The tour "Elements of life" is considered a professionally perfect and giant show, which is able to satisfy the most demanding fans. A concept of the tour is built on four basic elements of life: air, water, earth, and fire. Every of these elements appears in the show so you will have unforgettable experience.
Tiesto is the very first Dj in the world who twice sold off the stadium for 25.000 thousands of people. His remix Delerium in which Sarah McLachlan sings is the first house composition broad-casted by North America radios during the day. Above all it became the national anthem and was 8 weeks at the top of British Top 10. Tiesto performed in front of one milliard viewers.
Born in Holland, he became a Dj because he liked to share music with other people. At the beginning he traveled all over the Netherlands, later he performed at student parties and then regularly three days a week at a club. Tiesto was especially successful in the field of trance, but in his style there are also house and techno. Except for the usual club successes, his shelves are groaning under the weight of numerous awards – TMF-Awards, MTV, Dutch DJ – and gold discs…
And now the most important thing – when will this one of the best Djs of the world come? On 24th November, 2007. Tickets are available at ticketpro.cz and for more informations about Tiesto look at www.djtiesto.com.