Moscow City Ballet in Prague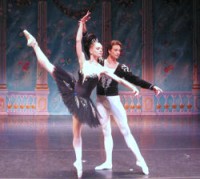 An amazing spectacle – classical music, wonderful choreography, perfect technique of dance and unique artictic presentment. You can see the best ballet pieces from the notable Russian masters.
The ensemble was established by Victor Smirnov – Golovanov and it is one of the best ballet ensembles of the world. Victor Smirnov – Golovanov's international career began in 1989 in Soul (South Korea), where he appeared for the first time in front of a foreign audience. Thanks to their great success, they are the most often performing ballet ensemble of the world. Since 1989, Moscow City Ballet has performed in Belgium, Egypt, Germany, Ireland, Japan, USA and other countries all over the world. In Great Britain they have performed even 1600 times; since 1991. And now we can see them in the Czech Republic.
Moscow City Ballet is going to introduce the best three performances of its repertoire. The first one is Romeo and Juliet, with ballet created according to William Shakespeare's play. You will see the story full of passion, jealousy, hate and especially full of love. The atmosphere of the tragedy is underlined by Prokofjev's music, which in one moment thunders and fades out in second. The perfect link between dance and music is almost unbelievable and you can get an unforgettable experience.
The second performance is Don Quixote, with music by Ludvig Minkus, the composer originaly from the Czech Republic. Choregraphy was created by a genius choreographer Marius Petipa. Ballet is created according to Cervantes' novel. One of the most impressive part of the ballet is Don Quixot's dreams. The scenes together with perfect ballet of Smirnov – Golovanov's dancers accent beauty and uniqueness of the performance.
The third performance is Giselle – a romantic story about tragic love between a beautiful village maiden and a nobleman Albrecht who dissembles his identity and impersonates ordinary villager. When Giselle discovers the deceit, she is inconsolable and goes mad, then dies of a broken heart. Albrecht is condemned for his lies to live in solitude without the loved woman.
Moscow City Ballet performs during October in the Czech Republic. Don't hesitate for a long time and go to buy the tickets at www.ticketpro.cz. Romeo and Juliet you can see on 23th October and Don Quixote on 22th October. These two performances will take place in Kongresove Centrum, Prague 4. Prices of the tickets are 770CZK – 1,490 CZK. Giselle will be performed only in Liberec.
Czech National Symphony Orchestra Concerts Tiesto's "Elements of life" in Prague T-mobile arena