Kofola tram in Prague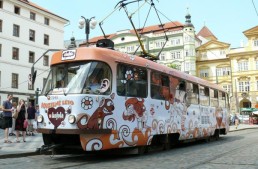 This tram is great fun! You can hear it long before you actually see it because fun music is played there quite loud. And when it approaches you may be surprised since Kofola tram is nothing like "normal" trams. It is so much better! Why?
Inside this tram you will feel like attending a party and not driving a tram. Great music is sweetening your trip through Prague while you enjoy Kofola drink for free! And you are not limited to one drink only. Oh no. When any of the young hostesses sees you with empty hands, she immediately brings you another Kofola. So I was given one right after I boarded, then when I finished my first drink, and when I was getting off I was offered another one.
This tram is special indeed. It has one wagon only. In the middle there is a bar. Yes, a real bar where Kofola is being tapped. Cool, right? Music is playing and there are even two plasma screens and cup holders in front of every seat! And this all is for free!!! You don't pay for the drinks, not even for the ride. The only negative point is that this tram rides only on Wednesdays, Thursdays and Fridays from 1pm to 7pm.
Kofola tram follows a special track but for the most part it drives as tram number 9 – through stations Andel (yellow line B), Ujezd, Narodni divadlo (National Theatre), Vaclavske namesti (Wenceslas Square).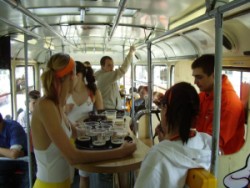 The intervals are also very special. You may wait for it on tram station Narodni divadlo (trams 6, 9, 10, 14, 17, 18, 22, 23). It will be there at around 13:45 when following the direction over bridge towards Andel, or at around 15:01 going the other way.
This tram may be hard to catch but when you see it, don't hesitate and jump in. This special tram will ride through Prague only till August 18!
And what is Kofola? It is a carbonated soft drink produced in Czech Republic and Slovakia. Its taste reminds you of Coca-Cola or Pepsi. And because "western" drinks were not available here in communist time, Kofola was a great substitute. But, maybe surprisingly, Kofola stays popular till today. It may be thanks to fresh ideas and creative advertisements. The Kofola tram being the best example of all.