The visit to Konopiste would take you about 4 hours, so with a snack and everything you could reserve for it half a day.
The Castle Konopiste resembles a lot to French Castles from the Gothic period. Its history goes back to the end of the 13th century since when it has suffered many transformations. In 1887 it become the home of the succeeding prince, Francis Ferdinand d'Este, a lover of hunting and collector of fine weapons, furniture and tapestries. Long after his death in Sarajevo 1914 (that started the 1st WW), the residence has become a museum and tourist attraction and it now hosts a magnificent set of weapons and hunting collections.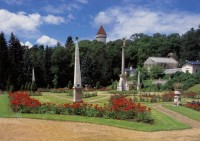 Konopiste is a great place where to take also your children. They will certainly be delighted to see the live bears at the castle gates (just like in the Medieval Times), the bird nursery (there is a shelter for birds that have suffered accidents and would be unable to survive alone in the wild)and play in the huge garden in front of the castle.
We recommend to make a reservation in advance or opt for a guided tour.
The Castle is open for visiting from April to October (partly in November) every day except Mondays (with small exceptions)