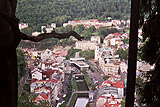 In case you want to kill a day in a very pleasant way and see the typical and one of the most beautiful Czech spas, take a trip to Karlovy Vary.
On your way there you can stop at Krusovice, the place where the famous beer is made and have a sample of the genuine taste of the magical liquid right from the source.
Karlovy Vary, a.k.a. King Charles IV's Spa or Carlsbad are famous for their 12 springs of curative mineral waters and developed during the centuries as one of the most luxurious destinations of political and cultural personalities: Ludwig van Beethoven, Wolfgang Amadeus Mozart, Franz Kafka, Alphonse Mucha, Casanova. One can add to that most of the film stars, who come to the International Film Festival that takes place here every summer.
When in Karlovy Vary don't miss: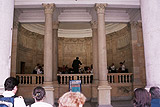 A walk through the old and modern Colonades. You will see people holding funny shaped porcelain cups, stopping at the numbered springs and drinking the hot water. Even if it tastes horrible and it can be really hot, it is said to have curative properties. Drink it or not, it is nice to buy one of those cups as a souvenir.
2. Speaking of pink cups, we got to another famous Karlovy Vary product: the Karlovy Vary pink porcelain, famous in all the world
3. When in Karlovy Vary you should definitely don't miss out the "lazenské oplátky", spa Waffles in English. You can buy them hot (they smell and taste great), or packed in boxes of six.
4. The most renown hot spring is the Vřídlo – Sprudel which springs its curative water to a height of 12 m
5. You could climb to the Diana Observation Tower (there is a funicular that takes you there or you can walk your way up through the park), from where you will have a splendid view of the town and the surroundings.
6. Last but not least, Karlovy Vary is the town of Becherovka, the Czech famous alcoholic liqueur made of herbs. Becherovka's recipe is in the Czech Republic something like the recipe of Coca Cola, top secret and worth billions euro.
You could also prolong your trip to Karlovy Vary for a few days (or weeks) of treatment, mineral baths and massages. For that you will need to book a hotel and the treatment in advance.
The drive from Prague to Karlovy Vary will take about two hours, if you're taking a bus it takes about half an hour longer. We don't recommend taking the train, it will take double the time and it's even a bit more expensive.
Or leave everything to professionals and order a guided trip to Karlovy Vary :-)