Domestic services are provided by CD (Czech Railways). There are number of daily connections to Prague from major European cities.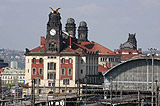 Prague has several train stations, but if you are using an international train you are most probable to get off at the Main Railway Station, called also Wilsonovo Nadrazi (Hlavni Nadrazi) or at Holesovice Station (Nadrazi Holesovice). Both of them are connected by metro (red line C) to the rest of the city.
Other train stations in Prague: Masarykovo nadrazi (station), Vysocanske Station, Smichov Station.
The biggest and busiest is the Main Railway Station (Hlavni Nadrazi), an international rail road hub, where you will find a 24-hour left-luggage service, information desks, exchange offices, food stalls and booking offices. The Main station is situated basically in the centre of Prague, just 5 minutes away from Wenceslas Square and other places of interest. It is also well connected to the rest of the city by public transport, that is by underground (red line C) and trams.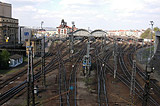 A supplement for fast express trains (rychlik) has to be paid. It is possible to buy plain tickets (jizdenka) or tickets with reservation (mistenka) for a seat, couchette or sleeper.
Information on rail connections available on: