Meet Mozart in villa Bertramka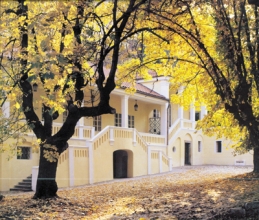 W. A. Mozart and Prague – those are two words that just belong together. Wolfgang Amadeus Mozart visited Prague three times in his short life, and it was in Prague where Mozart and his music found inspirational acceptance, friendship and admiration.
Of the thousands of musicians only few reach such fame as Mozart. He showed musical gift at a very early age, composing when he was only five! His music is played for centuries around the world. Even those who are not classical music lovers know who W. A. Mozart was. That is why in 2006 the whole cultural world remembered 250 years from the birth of W. A. Mozart (January 27,1756) and at the same time 215 years from his death (December 5,1791). Prague joined the other European cities that commemorate the anniversary of Mozart's birth and his musical legacy by concerts, theatrical performances and exhibitions recollecting the genius composer.
When you are in Prague, you have a great opportunity to get acquainted with the places that are connected with Mozart's life and work. Among other places such as the Estates Theatre or Lichtenstein Palace, villa Bertramka is special.
During his stays in Prague Mozart spent a lot of time at the villa Bertramka. This house from the turn of the 17th century used to be a summer house of the outstanding Czech singer Josepha Duschek and her husband, piano player, teacher and composer Franz Xaver Duschek. The Duscheks are credited with inviting Mozart to Prague. Duscheks and Mozart were close friends.
Here Mozart found a second home. In the idyllic environment of Bertramka he finished his masterpiece Don Giovanni just before its memorable Prague premiere on October 29, 1787.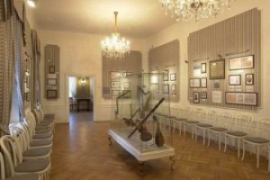 Today, the house serves as the W. A. Mozart's museum. The villa has kept the atmosphere of the times when the brilliant composer lived and worked there. It is definitely worth seeing. The exhibition shows all memorabilities of Mozart and the Duscheks, such as personal belongings, letters, pictures, musical instruments, above all the piano, which Mozart played in 1787, and others. It is like going back in time!
Regular chamber concerts are held at Bertramka as well. Either in the authentic music salon or in the romantic garden during the summer season.
The villa Bertramka is next to the Mövenpick hotel, near the subway station Andel (yellow line B). You can reach it by trams 4, 7, 9 and 10, station Bertramka. The museum is open every day from 9 a.m. to 6 p.m. The entrance fee for an adult is 110 CZK, students pay 50 CZK. Special discounts for group over 10 people is offered. Indoor concerts are for 390 CZK, garden concerts for 450 CZK. Students again can join the show for special price of 250 CZK.
You don't need to go inside the museum. Just the villa from outside and the garden, which is open to public, itself is a magic place. You can just visit the Café place there, drinking coffee just like Mozart did at this spot years ago. And you can say: "I was there where the great Mozart stayed 215 years ago! Pity, I just missed him!"