Beings from nowhere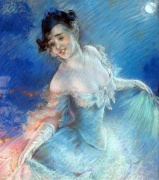 There is an interesting exhibition you can visit in City Gallery Prague, which is situated in the 4th floor of the main building of the Prague Municipal Library, Marianske Square nr. 1, not far from the Old town Square.
The exhibition is called Bytosti odnikud, in English Beings from nowhere, with a subtitle Metamorphoses of Academic Principles in paintings of the first half of the twentieth century. The title of the exhibition quite appropriately says what it is about. It presents works which were made with aims to present human body, somehow following academic principles of its depictions, set centuries ago. Although those principles were seriously "overcomed" by avant-garde movements in late 19th and first half of 20th century, there obviously still were authors, who followed old academic principles of realistic depiction of human body, and especially popular depictions of female naked body. But their works were in history of Art put behind those done by progressive avant-garde authors. This quite extensive exhibition now "puts them on light". If you like realistic painting, and especially painting of female nudes, which are there plenty, you should like some of the works exhibited here. But you also visit it if you are interested in Art history and want to discover some of its less known chapters.
Entrance fee to the gallery is 120 Czk or 60 Czk reduced price for students, children and retirees. Opening hours are from 10 am to 6 pm every day except Mondays. And the exhibition is to be opened until 1st of February 2009.
Kundera Accused of Getting a Spy to Jail Ground Collapsing for Blanka