Bratislava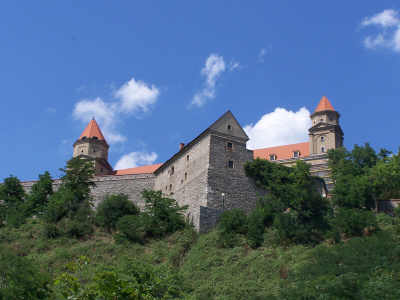 Bratislava is the capital of Slovakia. As you know, until 1993 there were no Czech or Slovak Republics, but one country – Czechoslovakia, with Prague being its capital and Bratislava the second biggest city. After the separation, it became the capital of new country. Maybe, you will have a chance to visit it. And it is definitelly worth of visit. Not as amazing as Prague, but more fancy then Brno for example. It is in distance of about 4 and half hours bus ride from Prague, so it is not a place for one day trip, but it is worth to visit it for a weekend for example.
Now Bratislava became a bit infamous for someones because of the stupid movie hostel, but the town is pretty nice. Don't be afraid of visit, you will like it here. And what to see there?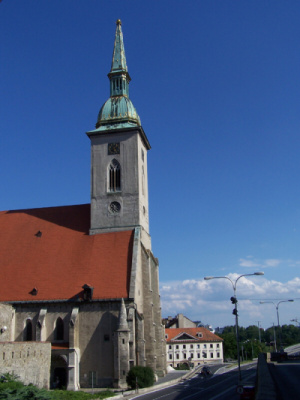 There are some old monuments, so it is good to take a walk in old town, to see gothic Saint Martin's church, Michael's Gate, Main Square and just stroll a bit in beautiful streets. Maybe you can also hike a bit to see the castle. The old town is small compared to Prague, but there are other touristic attractions beside it. Bratislava has interesting modern architecture. Highlight is definitelly one of the bridges across Danube river, which is called UFO, because of characteristic form on one of its ends, which looks like a space ship. It is possible to take a lift into "space ship", and enjoy the amazing veiw all over the city from it. There is also a restaurant located inside, it must be great to enjoying the view while eating, but the prices here are pretty high.
The best place where to eat in Bratislava is Slovak pub on Obchodna Street, popular among students as well as expatriats and tourists. It offers traditional Slovak foods as halusky with brynza cheese or potatoes with onion and cheese, or sweet dumplings, garlic soup in bread and many others, those I tried were very tasty. And they also have their own beer, called "Dobre pifko", which is also pretty good one.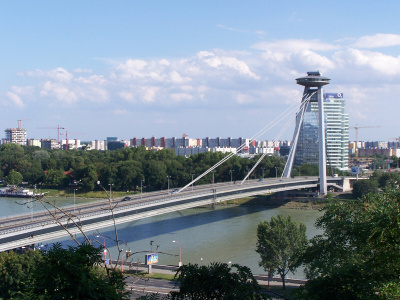 Another place I like in Bratislava is a chocolaterie on Michalska Street, where they offer many delicious hot chocolates. So many that it is really hard to choose one. And some of them are really attractive, either with fruits, liquors, rum or spices. Beside this, they also have desserts…
Bratislava is on Danube River, so onother option what to do is to take a boat trip. Either just for Bratislava sightseeing from the river or to old Devin Castle close to Bratislava or even to Hainburg, small Austrian town, well or even to Wienna, which is not far from Bratislava. Well, Austria's capital… also a place wchich should be visited, from Bratislava easily accesible also by train and bus, but it is another story.
So if you want to get to know another city, why not to visit Bratislava and also get to know a little bit more about Czechoslovak history this way, but mostly enjoy the atmosphere which this lovely town has.
Stromovka – a piece of nature in a bustling city Praha Stovezatá (The Hundred- Spired Prague)