Permanent Exhibition of Asian Art in Zbraslav
Although Zbraslav is a part of Prague, it feels more like a small town of central Bohemia. But being down the river, on the South of the city, it's still accessible by the city public transport. That's from the left side where Smíchov or Hradcany lie, while on the opposite side a biker may take a route from Modřany up to the place, going along the river bank.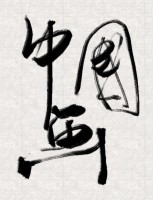 The chateau hosts a permanent exhibition of Asian art. The ground floor is mostly Japanese. Every room is supplied with a thorough, well- written commentary in Czech and English; each room is mostly devoted to a single theme, period or a major technique. The various influences are interesting, for example the similarities between 19th Century Japanese ceramics and the European art noveau decorations, or the very early hints of the comic- book style of drawing. There are some very old sheets with of a storyboard- like character, where a series of pictures tells the story of an ancient legend, the short comments written on a side.
The Chinese part is on the second floor. There you may see a quick walk through the country's art from simple artifacts, buried with the deceased or later statues- guards of tombs to examples of Middle Ages and Modern Times painting and Buddhist sculptures. Buddhism naturally plays an important role in all parts of the exhibition. The supplied commentaries also provide a brief, but competent overview of Chinese history, as it is reflected in the creations of the eras.
That is, including the last one, which consist of a mixture of other Asian regions. Examples of Indian, Indonesian… consist mainly of Buddhist religious and ritual objects. There is also a room with an exhibition of Asian Moslem artifacts, for example old prayer rugs. The Japanese and Chinese sections are far richer, but this does provide certain wider framework. I would recommend to end the visit in this one, although the order is purely voluntary.
Not that this would be all to see. There is also a temporary exhibition of Korean art. But the permanent one is unique considering the number of objects owned by the National Gallery. Apart from paintings and drawings there are lots of various boxes, dishes, vases, sculptures of various shapes and sizes, even some toys; generally a wide range of art both religious and decorative.
Aquadream - aquapark in Barrandov Czech Transformation which started in 1989