"The artist of his people" – Exhibition of painter Mikolas Ales at Prague Castle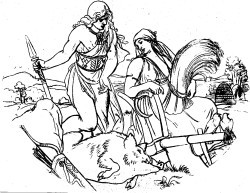 Mikolas Ales is one of the most important and well-known Czech artists. Now you have a change to see his works at the big retrospective exhibition called Mikolas Ales 1852 – 2007, which is being held in the Prague Castle Riding School until 20th of April 2008.
Mikolas Ales was born, as the title of the exhibition implies, in 1852 and died in 1913. He was an excellent painter and illustrator (during his lifetime he made his living mostly as an illustrator). His paintings are decorating the famous foyer of the National Theatre in Prague. But there were also some famous controversies connected with Ales – he had conflicts with the Committee for the Completion of the National Theatre as well as with his friend and co-worker Frantisek Zenisek, another famous Czech painter.
In the exhibition you can see representative overview of Ales´ work, mostly he was inspired by the Czech history and traditions. There are drawings and paintings on the theme of the life of Old Slavonic people, who lived in Bohemia in ancient times, scenes of the important moments of the Czech history, pictures depicting the idyllic life of Czech lands inhabitants or illustrating national stories, proverbs and legends. Plus there are some drawings of Indians, which was another of Ales´ favorite topics. There are also to be seen few drawings by his older brother Jan, who died prematurely and whose works often inspired Mikolas. Plus there are exhibited some items of Mikolas Ales´ personal belongings, as pieces of furniture.
But why is the exhibition called Mikolas Ales 1852-2007, when he died in 1913? Because his legacy, as "the artist of his people", was extremely strong until now. Many Czech Art Noveau artists – the modernists from the Group of Artists or group Maj 57 (all of them are very important artistic formations) – they claimed to follow his legacy. But Ales´ legacy was also praised during the Protectorate, when Czechs were in troubles under the Nazi rule and they needed some heroes from the past, to highlight national culture, which was suppressed by Nazis. Later, after the communists took over the rule, Ales was hugely praised again, not only for topics of his painting but also for his realistic style. In 1951 was made a movie about him, in 1952 was opened a big retrospective of his work, celebrating this way the 100th anniversary of his birth. In 1979, almost thirty years ago, there was also a big retrospective in the Prague Castle Riding School and according to curators, now the time for another one came. It should bring up questions, how the artist´s both life and work reception changed during the times. On the first floor, there is a special extension of the exhibition, there are displayed books on topic of Mikolas Ales, and it is interesting to see how many they are. So if you would like to explore one of the most popular Czech artists, you definitely should visit the exhibition.
The exhibition is opened daily (including Mondays), from 10 am to 6 pm. The entrance fee is 140 Czk full price, 70 Czk reduced or there is a possibility to buy a family ticket for 210 Czk.