In case you are not as lucky as I am and you don't LIVE in Prague, you might still get the chance to see it in its utter beauty. This section has given me the tough quest to determine the very best time to pay Prague a visit.
Well, if you ask me, I'm not a huge fan of cold weather but I'm a sucker for snow. Actually for Prague red roofs and spires under snow. I can't stand hot afternoons when you simply choke outside but I love long walks in the summer evenings. I hate cold rainy days but I will never forget the splendid views of Prague and the rusty autumn leaves. So, just feel happy the four seasons keep on going and coming and if you have just missed something this year, there's always a next time when you can return.
The brief description below should make your choice easier.
Spring
Spring is a perfect time to visit Prague. There are not so many tourists around so you don't have to worry about interminable queues at public toilets, crowds on Charles Bridge or supra-solicited hotels.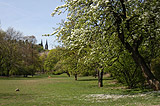 In addition, the weather is not very cold and the city keeps its beauty even if during March lows usually go below 0°C/32°F.
The highs can climb to 8-14°C/46-57°F. Starting from the end of April, beginning of May, the temperatures get higher (15-25°C/59-77°F) and Prague starts blooming in a fantasy of colours and bouquets.
The perfect time to fall in love, I would say.
Have a look at the Spring photo gallery
Summer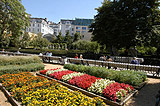 A rather crowded season to visit Prague that has of course its advantages. Days are longer and warmer, tourist attractions are opened till late, you don't have to worry about freezing temperatures.
Nevertheless, it is advisable to bring along a sweater and umbrella. Summer rainy days are a common thing in Prague. The usual summer temperatures vary from 20 to 27°C/68-80°F but can sometimes reach even 30-35°C/86-95°F.
Have a look at the Summer photo gallery
Autumn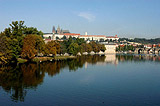 This is the time when Prague becomes a fairy tale town and the changing colours of the city offer breath-taking views. Up to mid October the temperatures are fairly high and can reach up to 15-18°C/58-64°F.
The weather can also play against you, so be prepared to expect sometimes cloudy skies and colder days. From the beginning of November snow is bond to fall and temperatures can go below 0°C/32°F.
Have a look at the Autumn photo gallery
Winter
A white winter is the most beautiful thing to see in Prague. Unfortunately, cold weather can also be an impediment for those with a sensitive health state or for those who are not a big fan of colder seasons.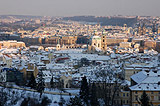 Most tourist attractions and museums have reduced opening hours, but are still open, so you don't have to be afraid there will be nothing do to in Prague during the winter. On the contrary, Christmas markets and New Year Decorations make Prague seem more alive than ever.
Warmer clothing and shoes should protect you in the freezing days when temperatures go below -10°C/14°F. Also take in mind that it will get dark after 4:00 pm in December and 5:00 pm in February.
Have a look at the Winter photo gallery