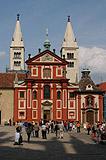 St George's Convent contains the National Gallery of old art collections, that is Czech Baroque painting of the 17th and 18th century, including Mannerism artists of the court of Rudolf II.
Address: Jiřské náměstí 33, Prague 1
Phone: +420 257 531 644,+420 257 530 543,+420 257 535 829-30
How to get there: Metro green line A to Malostranská station, Trams No. 12, 18, 22 or 23 to Prague Castle (Pražský hrad)
Opening hours: 10 am – 6 pm, closed on Mondays
Admission:
Full ticket: 100 CZK
Reduced ticket 50 CZK
Family ticket 150 CZK
Web: www.ngprague.cz

Exhibitions:

Bohemian Art from the Era of Emperor Rudolf II to the End of Baroque.
Czech baroque artists and their workshops.
Art in the Rudolfinian period: H. von Aachen, B. Spranger, A. de Vries.
Baroque Art: K. Skréta, F. M. Brokof, M. B. Braun, P. Brandl, J. Kupecký, V. V. Reiner, A. Kern, N. Grund.
The Bohemian Art from the Emperor Rudolf II to the End of Baroque permanent exhibition has expanded. It now includes two important works by Jan Jakub Hartmann: Woodland Landscape with Figures, Fish and Ships (Water Allegory) and Woodland Landscape with Figures and Ships (Earth Allegory)
Read more about the building of St George Convent.