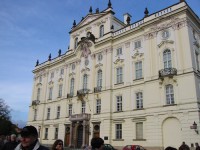 The art exhibition in the Sternberg Palace opened its gates for the public after the reconstruction in the years 2002 and 2003 contains
European Art from the Classical Era to the end of the Baroque Era
, with emphasis on the 14
th
-18
th
centuries.
The first part encompasses the works of art from the ancient Greece and Rome. The first floor exhibition halls further house the famous works of 14th – 16th century art that come from the Konopište Castle collection of Archduke Franz Ferdinand d´Este. It contains the works of older Tuscan masters (B. Daddi, Lorenzo Monaco), the works of Venetian school (Vivarini workshop) and the masterpieces of Florentine Mannerism (A. Bronzino, A. Allori).
The second floor of the palace hosts an exhibition of the works of Italian, Spanish, French and Netherlandish masters from the 16th to the 18th century, such as: Tintoretto, Ribera, Tiepolo, El Greco, Goya, Rubens and van Dyck The separate cabinet installed in the first half of the 19th century style reminds us of the famous collector and patron Josef Hoser, to whom the National Gallery owes for the essential part of its collection of old masters.
The ground floor houses the exhibition of German and Austrian art of the 16th to 18th century. Besides many masterpieces by e. g. Lucas Cranach or Hans Baldung called Grien one can find here one of the most famous works of the European painting The Feast of the Rosary by Albrecht Dürer. The painting was completed in Venice in 1506 and later it was purchased and trasferred to Prague by Emperor Rudolf II.
Opening hours: 10 am – 6 pm, closed on Mondays
Admission fees:
Full ticket: 150 CZK
Reduced ticket 70 CZK
Family ticket 200 CZK
Address: Hradčanské náměstí 15, Prague 1
Map: www.ngprague.cz
How to get there: Tram 22 or 23 to the Prague Castle (Pražský hrad)
Web: www.ngprague.cz