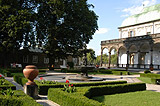 Belvedere is the jewel of the Royal Garden. It is a prime example of Italian Renaissance. When you take a look at its arcades, Ionic columns and reliefs depicting mythology, wars as well as scenes from hunts, you will understand, why this building is considered the most beautiful example of Renaissance north of the Alps.
Eternal love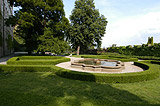 It was meant to be a gift for Queen Anne from her loving husband Ferdinand I of Hapsburg. Sadly, the beloved queen died during her fifteenth childbearing. The royal couple thus could not enjoy the beauty of the building but they were immortalised in its decorations – one relief shows the king as he presents Anne with a flower. The keel-shaped roof is also worth taking a look at. It was originally painted red and white and decorated with signs symbolising the Czech kingdom.
Historical excursion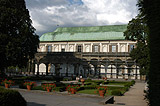 If you do not mind a bit of history, it is interesting to note, that the palace was most widely used probably at the time of Rudolph II. Not only did he convert the first floor into an observatory, where one could meet famous astronomers such as Tycho Brahe or Johannes Kepler. Rudolph II also moved there a part of his artistic collections. He certainly would not have done it, had he known, that the place was doomed to dilapidation and, what is even worse, to plundering of Swedish troops during the Thirty Years' War. Some of the stolen objects are now placed in French Louvre.
The Singing Fountain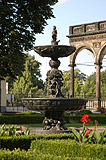 The famous Singing Fountain is to be found in the garden in front of the summer palace. It was created by metal founder Jaros, who also made the biggest bell of the Prague Castle for St Vitus Cathedral. Are you asking yourself about the "singing" bit of its name? The water, flowing out of heads of the numerous figures and animals, falls onto the bronze bowl and – believe it – "sings". To appreciate this concert though, you have to press your ear to the fountain very closely.
How to get there:
Royal Garden can be easily reached from Prague Castle over Powder Bridge. Or you can take trams no. 22 or 23 and get off at stop Kralovsky letohradek.
For more pictures see Gardens below Prague Castle Photo Gallery