Funicular railway in Prague has a long history, dating back to 1851 when it used to work on water overbalance mechanism. After the First World War, the funicular railway has been bought by the Electric Company of the Capital City of Prague, which started a reconstruction of the old mechanism. The funicular restarted its activity in 1932 after being electrified and run up to the year 1965, when, due to massive landslips at Petrin hill had to be interrupted for about 20 years. In 1985 it started again to offer tourists and locals the magical view of Prague.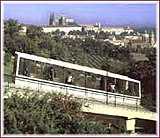 Technical parameters:
length of track: 510 m
stops: 3
cars: 2
elevation: 130 m
maximum grade: 298 ‰
travel speed: 4 m/s
Nowadays it's run by the public transport company and it's opened every day from 9:00 do 23:30 hrs. It runs every 15 minutes in the winter seasons (October – April) and every 10 minutes in the summer season (April – October).
The funicular railway starts in Mala Strana (Lesser Town), at the tram stop "Ujezd" (trams No 12, 22, 23) and end up the Petrin hill, where, besides admiring the magnificent view over Prague, you can also take a look at the Astronomical Observatory (opened in 1930), or climb the Lookout Tower. Another well worth it option would be a stroll through Petrin gardens, the youngest of which is the Rose Garden, opened in 1932.
Next to the Lookout Tower there is the well-known Maze – a hall of mirrors in the Czech Hikers´ Pavilion.
Fares: For the fare you can use any kind of the public system transfer tickets