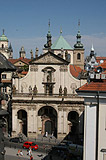 Clementinum is the second largest complex of buildings in the metropolis after Prague Castle – covering a total area of 20 000 square metres. If you are wondering how such a large system of buildings could arise, we need to plunge into history…
A bit of history:
The founding of Clemetinum goes back to the 11th century and the Chapel to St Clement (hence the name) near which the Dominican Order set up their monastery. Couple of hundreds of years went by and during the 16th century Jesuits arrived at the place of the monastery with a task to strengthen the catholic belief. Their influence and riches grew and soon Clementinum rivalled Carolinum – the core of the legendary Charles University. Despite the expulsion of Jesuits in 1618 they returned after two years (because of the defeat in the Battle of White Mountain), literally took over Carolinum and brought here the precious library.
Given Jesuit wealth and influence they managed to enlarge Clementinum by buying land and buildings nearby and constructing on their place. In this way about 30 houses, churches and two gardens were "swallowed". Hundred years after the mid-17th century were thus the time of the main expansion until the order was dissolved by the Pope (1773).
The complex grew in a Baroque style (you have probably heard the names of the famous architects such as Lurago and Dientzenhofer or Brandl who created the interiors) and was modernized and enlarged in Classicism to include:
libraries: today National, State Technical as well as the University one
the first observatory where daily temperature measurements were taken since 1775 and where Kepler discovered the laws of planetary motion
churches such as Baroque Church of St Clement (Kostel sv. Klimenta) or Church of the Holy Saviour (Kostel sv. Salvatora)
What should not be missed…
You should not miss one of the concerts in the Mirror Chapel – the name comes from the mirrors with a role to optically enlarge the space. A visit to the Baroque Library Hall as well as having a look from the Astronomical Tower are also a must your sightseeing list.
Here you can find some historical pearls.
How to get there:
Given how large the total area of Clementinum is, there are several possibilities how to get there. If you are at Staromestska metro station (green line A) walk down Kaprova and Zateckeho and Platnerska streets that will take you to Marianske Square and there you will see the entrance. Another possibility is to come to Krizovnicke Square that is just in front of the Charles Bridge.