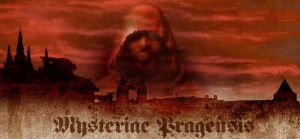 Mystic and poetic museum
What is its aim? To open the dark beauty of Prague to its citizens and tourists. The authors have conceived it in the way visitors can spend as much time as they want and to learn as much as they want.
The Prague Mayor Pavel Bem said at the opening ceremony: "We walk the everyday Prague, around its walls and we don't know which stories took place behind them, wee walk streets with our eyes on the paving and often don't see higher than one meter above the ground. The museum can open, or at least ajar our eyes, so we could precept the mystics and magic which belongs to Prague history."
At the first part of the museum is a giant book of rumors, its pages with illustrations all around the room. The visitors can read all or just selected and highlighted passages, which are necessary for understanding the basement part of the exhibition. The underground part consist of maze of Old Town streets, where the the ghosts. The authors however didn't want it to be simply a ghost ride, so there is no shocks form behind the corner. Prague ghosts are also poetic and serene, and such should be the museum as well.
The authors of the museum stated about their creation: The cellarge of the house which dates back to the early 14th century represents a real city of ghosts where you can meet them face to face thanks to tastefully build model of streets and quiet corners of Old Prague. The contents of exhibition is based entirely on authentic records and legends, not on fairy tales, films, or organizers' imagination.
Adress: Mostecka 18, 118 00, Praha 1, www.ghostmuseum.cz