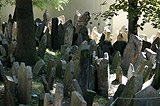 You might think it's a bit peculiar to invite someone to such a place like a cemetery. Jewish or not, we are still human beings and the memory of distant times and how former people used to live end die can not leave us unmoved.
Dating from 1478, it is Europe's oldest "surviving" Jewish cemetery. Jewish people in Prague were not allowed to bury their dead outside the ghetto, so they had to adapt and built the tombs one on top of the other.
It is now impressing to see tombs on 12 layers and to imagine that in the area are buried more than 100,000 people in about 12,000 graves. The last person buried in the cemetery was Moses Beck in 1787. The most striking graves are those of Mordechai Maisel and Rabi Löw (on his real name Jehuda ben Bezalel, the creator of the Golem). The cemetery has served as burial grounds for 300 years (from 1478 to 1787).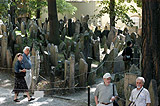 Did you know?
During the WW II, Hitler decided to erase not only the Jewish population but also the Jewish synagogues and burial grounds. He ordered, however, for the old, impressive Jewish Cemetery in Prague to be left intact, as he wanted to transform it into a museum after killing all the Jews in Europe.
Isn't it ironic how history has its ways…
Getting there:
From underground "Staromestska" ( green A line) follow the sign saying " Starý židovský hřbitov".
For more pictures see Old Jewish Cemetery photo gallery