Loreto consists of a large pilgrimage area containing beautiful chapels and chambers, decorated with impressive statues and fountains. Places of interest at Loreto:
Old Treasury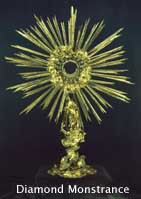 The Loreto Treasury originates from the 16th – 18th centuries and consists of a collection of valuable liturgical items.The most valuable and famous piece is the "Diamond Monstrance", decorated with 6,222 diamonds and dating from the end of the 17th century (1695).
It is now used only for very special occasions (e.g. In 1999, at the 400 years celebration of the arrival of the Capuchins in Bohemia.)
Chapel of St Anne
The Chapel of St. Anne was built in 1687 with the support of public collections and the support of Katerina of Lobkowicz, who donated the relief of Christ Child.
Chapel of St Francis Seraphinus
This is a design of the famous K. Dientzenhofer (1655-1722) and contains besides a beautiful Baroque altar an impressing painting of the Stigmata of St. Francis Seraphinus by P. Brandl.
Chapel of the Holy Family (Chapel of the Holy Family)
Except from the 17th century Baroque architecture, you will find here a Rococo altar of Saint Felix of Cantalicia, decorated with sculptures by Richard Prachner (1705-1782).
Santa Casa
Copy of the Santa Casa in Loreto, Italy, the house where Virgin Mary was told the she will give birth to Jesus, the Son of God. Read more in section The Legend of Santa Casa
Chapel of the Holy Rood
Contains representative pictures of the Purgatory and a sculpture of the Crucified Christ. It dates from 1691 and was later in 1735 completed with an altar of St. Fidelis, a Capuchin martyr.
Chapel of St Anthony of Padua
The altar is the work of M. W. Jackel (1655-1738) like the Chapel of St. Francis and the most impressive piece is the painting of St. Anthony by S. Zeiler from the beginning of the 18th century.
The chapel of our Lady of Sorrows (St Wilgefortis)
The most important piece contained here is the Gothic Pieta, dating from the 15th century and donated to Loreto by V. Rincolini in 1687. As legend has it, the Pieta miraculously survieved a fire set by the Calvinists and therefore was thought to have miraculous powers. The Chapel is also dedicated to St. Wilgefortis, a martyr highly respected mostly in the northern countries.
Fountain with sculptural group of the resurrection
Fountain with sculptural group of the assumption
Both sculptures are the work of J. M. Brüderle (from 1739). Now replicas. The originals are kept in the Lapidarium (at the National Museum).