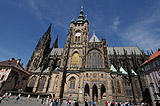 The history of St Vitus Cathedral is almost as old as Prague Castle itself. The first sanctuary on the place of present St Vitus Cathedral was built by Wenceslas I, Duke of Bohemia, in 926-30 as the third church built at Prague Castle. The founder Wenceslas was also buried there. However, the church (rotunda) was destroyed by Prince Spytihnev after 1060 and replaced by a new romanesque basilica. But this basilica didn't stay long there. On the occassion of promotion of Prague's bishopric to archbishopric, king John of Luxemburg and later Charles IV started to built a large cathedral in gothic style.
The Gothic Cathedral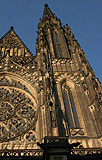 The design of the new cathedral was entrusted to French architect Matthias of Arras who found the inspiration in classical French cathedrals. After his death in 1356, Petr Parler continued with the building of the cathedral. Parler used his own creativity and tried to build a monument that would not copy other cathedrals. Some of his ideas were very advanced. Until his death he managed to build east part of the cathedral and the low floors of the Bell Tower that was later finished by his sons. The construction of St Vitus Cathedral was ceased by Hussite Wars.
Completion of the cathedral
In the centuries that followed many attempts were made to finish the cathedral (e.g. by Ladislaus Jagiellon or Leopold I, Holy Roman Emperor) but St Vitus Cathedral was finally finished in the 20th century thanks to the the Union for Completion of the Cathedral of St Vitus in Prague founded in 1873. The cathedral was completed on the occassion of the milenium of St Wenceslas in 1929.